Mandala coloring books and a unique collection of mandala gifts that inspire, stimulate creativity, soothe body, mind and spirit, and promote peace and harmony.



http://www.mandali.com/

Does geometry play a role in the genetic code? Rafiki says yes:



http://www.codefun.com/
Ed Pegg's site, one of the best math puzzle
sites on the web
http://www.mathpuzzle.com/


Jill Britton's wonderful site with
lots of tessellations



http://britton.disted.camosun.bc.ca/jbsymteslk.htm
Simple and elegant ball and stick modeling system
which allows anyone to build beautiful
geometric models with little effort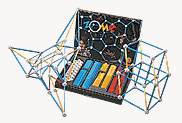 http://www.zometool.com/
Sacred Geometry Site of Bruce Rawles:





http://www.geometrycode.com/sg/index.shtml
Totally Tessellated - A comprehensive introduction
to tessellations (tilings)





http://library.thinkquest.org/16661/index2.html

Website of mystical mandala artist, Aya.





http://www.starwheels.com/


Supporting American-Made Products and Services
from American-Owned Companies



http://www.howtobuyamerican.com