During this time of heightened sensitivity to toy safety, Fractiles makes consumers aware that we manufacture in the USA by clearly stating on the front of our products that:
Fractiles is made in the USA.

Every component of Fractiles has been tested by a certified laboratory to assure that Fractiles complies with all US regulations for toy safety.

FRACTILES products comply with the Consumer Products Safety Improvement Act of 2008 ("CPSIA") and have been third-party tested to meet or exceed these standards. Download Fractiles Certificate of Compliance.

Safety test results are available as PDFs:
Large Edition (12 pages, 292 KB), Travel Edition (12 pages, 292 KB),
Fridge Fractiles (12 pages, 288 KB)


Adherence to this mandatory standard means that Fractiles does not use materials and designs that may be harmful to children.

ABOUT MAGNETS AND TOYS
We understand parents may be concerned about buying toys that use magnets. This concern is two-fold: the strength of the magnets and their chemical composition.
Strength of the magnets
Take a look at the chart below comparing the strengths of various kinds of magnets. As you will see, Fractiles magnets are of a different type-flexible iron/resin-than those that have been responsible for health problems-neodymium. In fact, neodymium magnets, which can be dangerous if swallowed, have a magnetism that is over 50 times stronger than our flexible magnetic tiles. No magnet should be ingested, but Fractiles magnets do not have the strength to cause the kind of health problems that neodymium magnets have caused.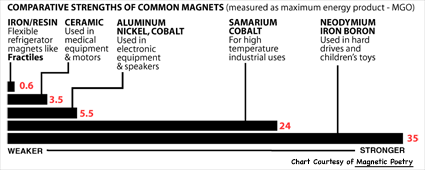 Click here for larger chart.
Chemical composition of the magnets
The flexible magnet material we use is produced and tested in the USA and passes established toy safety standards for lead and other harmful ingredients.
Click here for information from our magnet producer, Magnum Magnetics.

This year Fractiles is celebrating 11 years of making quality toys in the USA with safe and ethical production.


Very truly yours,

Beverly Johnson
President and CEO
Fractiles, Inc.
303.541.0930

www.fractiles.com